Cynics for a Better Tomorrow
Cynics for a Better Tomorrow
Welcome to the home page of Cynics for a Better Tomorrow - a website especially for those who find themselves insufficiently depressed.

Truly, there is no point to creating such an organization. Certainly no one will show any interest. In the unlikely event that you do wish to join such an organization, all you have to do is SAY that you are a member. There are no dues or fees for membership. There is no membership kit or certificate, since evidence has shown that no one is interested in these things, and producing them would be a mere waste of time. To resign your membership at any time, you merely have to stop saying you are a member. Not that anyone cares, but if you acted as if YOU gave a flip about anything, and entertained the notion that someone, somewhere, might give a royal flying hoot about you or anything you did, you would be revoking your own membership in the Cynics organization.

Given the current state of world affairs, from the wars in the middle east, to the Palestinian situation, to the depressed state of the global economy, plummeting employment figures, bankruptcy, foreclosures, failure after failure of every and all bailouts attempted, we are entering what some economists are referring to as "The Greater Depression". It has been said by past Chairmen of the Federal Reserve that you cannot spend your way out of a recession or depression. But, we keep trying.

So, what is the way out of this? Is it think good thoughts, spend like we have for years (personally and communally), and hope for the best? Or, is it better to huddle down in a survivalist's bunker? Personally, I don't think either of those are the answer. The first is obviously doomed to failure. Survivalists may survive, but what sort of world are they gaining access into?


What's New?
I DO write new information regarding cynics and cynicism in my blog. Feel free to click on that link on the left. Indeed, I may have written something for today.

June is Dystopia Book Month. This is a book group which cynics can get behind - they show the world as it will be, or probably was. They are a cure for unbridled optimism. See the details of this event at The Book Stop.

Click on a Rafflecopter giveaway to take a chance that you may win one of these books.
Please note that Cynics for a Better Tomorrow is not in any way affiliated with The Book Stop nor with RaffleCopter nor with Cloudfront. Nothing bad seemed to happen to me or my computer when I clicked and entered though.

I have added a section for assorted writings, either by myself or others, as attributed.


Working for a better tomorrow
In spite of being cynical, and looking at the world as it's all a big piece of cr*p and getting worse by the day, perhaps... just perhaps, there ARE some solutions to some of these problems. We've just got to think a bit outside the box.

There are huge problems in the world, which is most of what this website discusses. Many of these seem insurmountable. Perhaps they are, in the big picture. In the long haul, the "big crunch" will destroy everything. For anyone who does not know, the "big crunch", which is the reverse of the "big bang", where everything supposedly crunches into another primordeal black hole, in preparation for another "big bang". It's all a cyclical. However, I figure well that I will be long-gone before that happens, so it's not worth spending a lot of time worrying about. Some of the problems, such as disease, world hunger, climate change, and cleaner fuels can stave off the inevitable.

I am working through the World Community Grid. I would encourage you to look at that too.

To learn more about what the basic software that runs it, or BOINC, and how it began with SETI-AT-HOME, click here.



Top
Links
I have found another website which seems to have as cynical ideas as I do, although specific to the United States of America. This blogger take the "Tea Party" people at their word, regarding immigration and "anchor babies". Everyone in the USA would have to prove that none of their ancestors came into the United States of America illegally, otherwise they would be required by their own patriotic ethics to return to their nation of origin. If the country no longer exists, then the person would return to whatever nation is there now. It gets a little complicated for people of mixed-national ancestry. In my own case, I would not know whether to go to England, Wales, Ireland, Denmark, Prussia, Poland, Russia, or Mongolia. Would I be divided up among those countries? Perhaps it would be better to illegally immigrate into another country, such as Somalia? If we wanted to be citizens of the United States of America, we could apply for immigration and citizenship - the right way. Not have our birthright citizenship bestowed upon us by the now controversial 14th amendment simply because we were born in the USA.

Go to this site that fits in well with mine, Patriots for Self-Deportation. If you are a true, patriotic American, this site will tell you how to go about researching your status as a legal or illegal resident, and how to self-deport to your country of origin - even if you know nothing about the country or how to speak its language.
---
This presentation unabashedly pirated from The Oatmeal.

Top
Let's hear from the other side
Now, isn't this the silliest thing you've heard all day? You would certainly NOT want to take THAT to heart!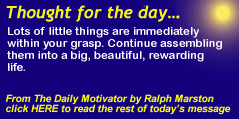 Now THIS one is certainly nothing that anyone would ever be interested in laughing at!

The world and everyone on it is doomed. We are all going to die! As a race, we are going to die, and life on earth will cease. There are various ways this could come about, some sooner or later than others. You will not get out of this alive! If you want other methods by which the end of the world could happen, both likely and unlikely ones, try Exit Mundi, Armegeddon Online, 8 Ways the world will and will not end or 20 Ways the World Could End. A quick slideshow of ten of the ways the world could end is on Livescience, featuring The Top Doomsday Fears. These will navigate you off of this site. As you read them, just remember that many things are possible, but only a few things happen. One thing that is 100% certain though is that disaster is sure to strike. Ask any cynic for details.

Top
Disclaimer
I claim no particular training or knowlege in any field, These opinions do not necessarily reflect the opinions of Web-lectric, my nation, my state, the California Department of Furniture and Bedding, FEMA, anyone or everyone else, or even myself. None of these opinions focus on any particular religious outlook or teaching. I am not particularly looking at any sort of divinely or supernaturally-caused disaster. In short, this is not an "endtimes" website or blog.

Nothing in this site is designed to give any sort of advice. Any advice is pretty useless anyway, whether giving such advice or acting on any advice. Do so at your own risk\k\s\i\r\ certainty that disaster will ensue from the offering or use of any advice, for no good deed ever goes unpunished.

Top
---
Website design and Hosting by Web-lectric
This site is brought to you without the use of any Microsoft product! It is 100% designed using Linux tools, and hosted on a Unix server.
Copyright 2009, 2012 by Elizabeth Harper
All Rights Reserved
No part of this page may be copied as a whole or in part, except in brief citations under the "Fair Use" provision of US and International Copyright Law without written permission of the author.